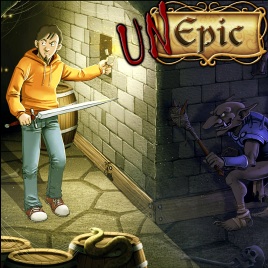 Daniel is the main character of UnEpic and is the player's in-game avatar.
Biography
Edit
Daniel was just an average guy. He was a great videogame player, a big fan of sci-fi movies, and a novice RPG player. In the midst of an RPG, he was teleported to a castle. At first, Daniel believed that he was having a massive hallucination. Eager to keep playing within the RPG to create his own adventure, he decides to go along for the ride until his delirium comes to an end.
Ad blocker interference detected!
Wikia is a free-to-use site that makes money from advertising. We have a modified experience for viewers using ad blockers

Wikia is not accessible if you've made further modifications. Remove the custom ad blocker rule(s) and the page will load as expected.